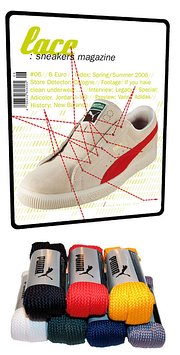 To drop it straight away: Lace issue 6 is out! What roundly can be found is ... love, relationship, health, job – all inside. None is immune against the powers of changing seasons and the annual cycle of birth, growth and decay. Captain, where are thou going? Forward, forward, forward. This spring/summer there'll be a lot to report on the world of kicks.

This Issue comes with a free pair of Puma fat laces.

This time the focus lies on the launch of the new adicolor-series – colorful and unique. Kermit the frog shows his skills as Conférencier. The index shows the latest for spring/summer 2006. How Cologne, Germany is doing you'll find out in the Store Detector. Our Footage is below the belt and it's getting as hot looking at the latest Nike and Adidas models in the Preview. And those who have always asked themselves how the "N" got on their dented kicks will be answered to in the History.

Lace #06 will be available at the main trainstations in germany, in selceted stores or can easily be ordered in our shop.
We're looking forward to your inter-activity!

LACOSTE KIDROBOT EBOY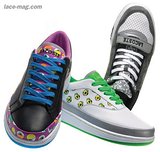 Lacoste and Kidrobot are coming down with a colab this autumn. Three models the Missouri 85, the Revan 2 and 3 comes with three...
read more >
Skull sneaker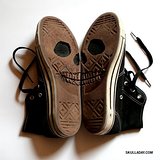 If found these on a nice project site called Skull-A-Day. Think they will be good for a walk on wet cement. <LINK...
read more >