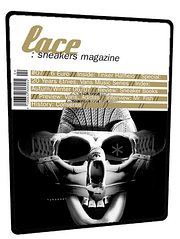 The magical seventh issue. To be honest – skulls, cheese and the magical number 7 have not much in common at first view. Just as little it depends. Just imagine these three things on the display of a slot machine. Well- and colorfully-mixedlike the current sneaker market. There are a lot of new things. But between Berlin and other global places, how cutting-edge is it actually?

Should we keepit to the essentials points, take a deep breath and open our eyes? Timelessness beats the zeitgeist in the long run. Dedicating oneself should be no bondage, but pure pleasure. Renaissance! Something is in the air, we will tell you what it is.

// Inside: A big interview with the godfather of Sneaker design, Nike icon Tinker Hatfield. // special: 20 anniversary for Etnies. // The index shows you everything new for fall/winter 06-07 // Reviw: Find a pretty sneaker book "what, why and where to get" in our review // Preview: Vans and Adidas in the soon future. // Mr. Jeremy Fish tells you about dark matter and pink elephants // History: Everything you have always wanted to knowabout Converse but never dare to ask about that and more in our compendium about the company // Nothing but the end at page 100. //

Lace #7 is available in all big train stations across  Germany, in selected shops worldwide or comfy here in our webshop.

Lucky 7. Merry christmas and a happy new year.



LACOSTE KIDROBOT EBOY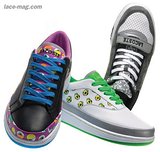 Lacoste and Kidrobot are coming down with a colab this autumn. Three models the Missouri 85, the Revan 2 and 3 comes with three...
read more >
Skull sneaker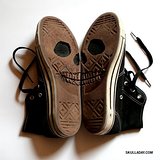 If found these on a nice project site called Skull-A-Day. Think they will be good for a walk on wet cement. <LINK...
read more >